Design for Succession in Family Business
SAVE THE DATE - January 28th 2016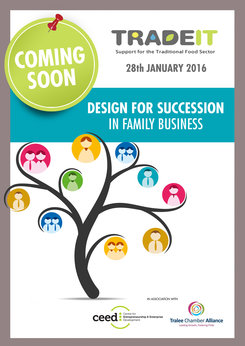 Be part of the programme that will prepare your family business for the next generation. Create your future pathway by building a body of knowledge through design stimulation, future focus thinking and ongoing professional development. Identify the challenges ahead, stimulate growth and ensure your business is constantly evolving to meet the needs of the future.

Speakers on the day will include:


Michael McQuillan, founder of the Streat Café franchise, Prof. Laura Galloway, Heriot Watt University, Scotland, Steve Conlon founder of the Institute of Designers in Ireland, Gerard Cleary of Glenisk and William Keeling of Keelings. The event will also include and an expert panel of local family businesses including DairyMaster, Kerry's Eye, CH Opticians, Ballygarry House Hotel & Spa and Garvey's Supervalu, Tralee who will focus on the need to innovate for succession.


For more information please email Cliodhna Dowling (Cliodhna.Dowling@staff.ittralee.ie) or call 066 7144247
Event Details:
Date: Thu 28 January, 2016 from 8:30 AM to 1:30 PM
Location: L106 Sólás Building, Institute of Technology, Tralee, Ireland
Add to Calendar
Funded by
the European Union

This project has received funding from the European Union's Seventh Framework Programme for research, technological development and demonstration GA 613667
Copyright © 2015 TRADEIT.