Last Chance to Register: Traditional Dairy Innovations for SMEs
Dear Food Producers,

The TRADEIT project is running a technology and networking event in Poznan Poland, on June 18th and 19th.


This event is a meeting point between traditional dairy producing SMEs, technology providers and researchers to facilitates and promote access to new dairy processing solutions and best practice.


This event is free of charge, travel costs of a number of selected companies will be part funded.

Confernece Program is available here


If you have any questions please contact TRADEIT Network (info@tradeitnetwork.eu)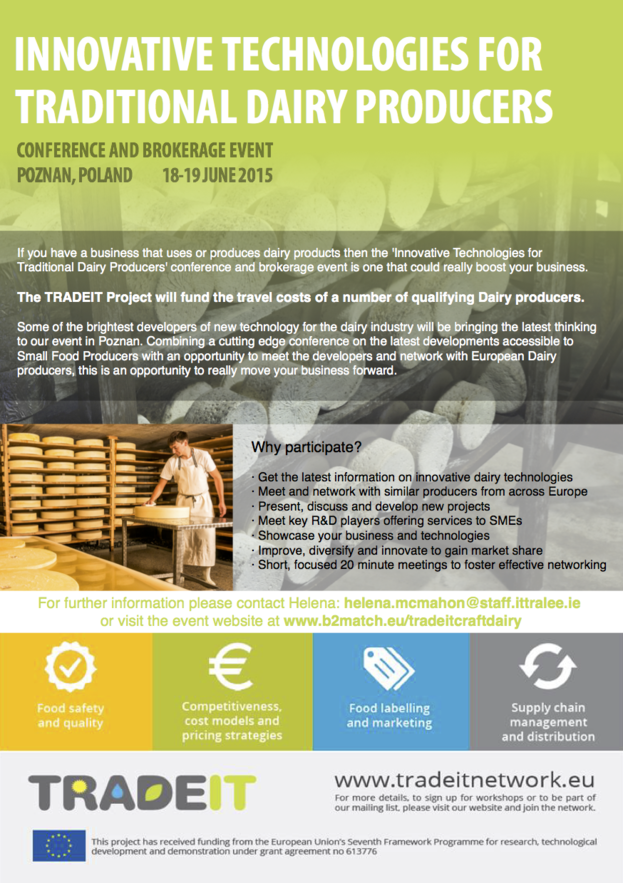 Event Details:
Date: From Thu 18 June, 2015 9:00 AM to Fri 19 June, 2015 1:00 PM
Location: Congress Center Hotel IOR, 20 Władysława Węgorka St., 60-318 Poznań, Poland
Add to Calendar
Funded by
the European Union

This project has received funding from the European Union's Seventh Framework Programme for research, technological development and demonstration GA 613667
Copyright © 2015 TRADEIT.