TRADEIT Workshop on April 27th
Are you interested in learning more about using the heritage, character and authenticity of your food in your marketing activities?

If so, you may be interested in European Commission Quality Designations (PGI, PDO and TSG) which promote and protect food names that are linked to a particular region/country or that are traditional in nature. Our next TRADEIT workshop is on this topic.

The workshop will provide you with practical, usable information about quality designations, the advantages and pitfalls in applying for quality designation status and the application process itself.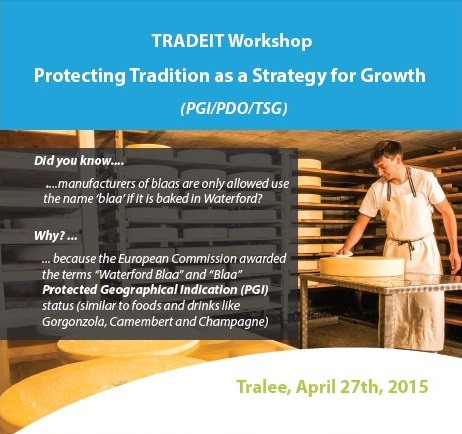 The advantages of PDO/PGI/TSG Quality Designations
Promote rural and agricultural activity

Protect the reputation of regional foods

Help producers obtain a premium price for their authentic product

Eliminate unfair competition due to non-genuine products, which may be of inferior quality or of different flavour
Workshop speakers include Dermot Walsh, M&D Bakery, who was instrumental in obtaining PGI status for the Waterford Blaa, Brendan O'Connor from the Food Industry Development Division of the Department of Agriculture, who has experience and expertise in guiding food producers through the application process for quality designations and Colin Sage, Senior Lecturer, UCC who is an expert in the field of food systems.

For more information and to view the agenda please visit the TRADEIT website. To register for the workshop please click the green button below.
Event Details:
Date: Mon 27 April, 2015 from 2:00 PM to 6:00 PM
Location: Room J210, HCT Building, Institute of Technology, Tralee, Co. Kerry, Ireland
Add to Calendar
Funded by
the European Union

This project has received funding from the European Union's Seventh Framework Programme for research, technological development and demonstration GA 613667
Copyright © 2015 TRADEIT.