The Milk Mission - What does clean mean?
TRADEIT would like to invite dairy processors and SME's involved in the dairy sector to a seminar focusing on Dairy Hygiene, which takes place on Tuesday, September 27th at Teagasc, Moorepark.

Cleaning & Sanitation are key to producing top quality, safe dairy produce. This workshop will give dairy processors an opportunity to:
- Learn from leading experts in the field of Dairy Hygiene
- Meet a range of Dairy Hygiene technology providers
- Have a guided tour of Dairy Research Facilities in Moorepark Technology Limited
- Meet, network and learn from other dairy producers

For more details, please click on The Milk Mission Brochure

If you have any questions please contact Michael Gleeson (Michael.Gleeson@staff.ittralee.ie)

Places are limited, so if you are interested in attending, book your place now by clikcking here: BOOK NOW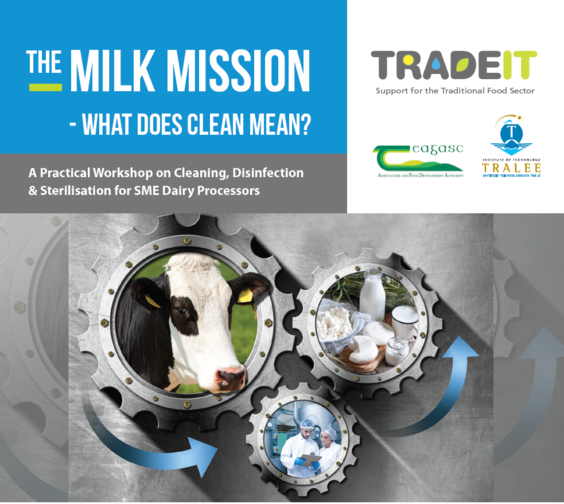 Event Details:
Date: Tue 27 September, 2016 from 10:30 AM to 3:30 PM
Location: Teagasc, Moorepark, Fermoy, Co. Cork
Add to Calendar
Funded by
the European Union

This project has received funding from the European Union's Seventh Framework Programme for research, technological development and demonstration GA 613667
Copyright © 2016 TRADEIT.