| | |
| --- | --- |
| Artisan Food Symposium - UCC Celebrating 10 years Diploma in Speciality Food Production | 17 June 2015 | www.tradeitnetwork.eu |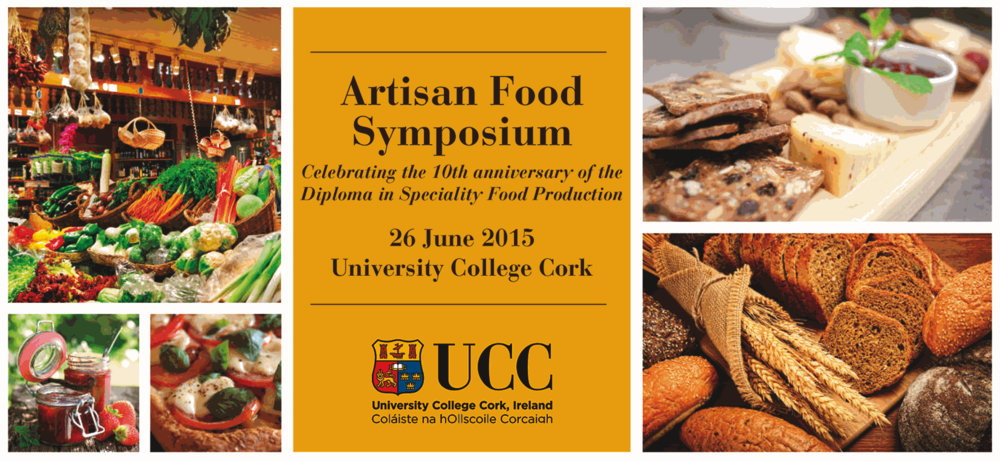 Introduction
The artisan/speciality food sector is an important part of Ireland's food industry and continues to grow in size and significance. This Symposium is being hosted by UCC to celebrate the 10th anniversary of the Diploma in Speciality Food Production. A key objective of the Symposium is to highlight the important contribution of education and training to the continued growth of the sector. The Diploma in Speciality Food Production was specifically introduced by UCC in 2005 to provide support to those in artisan/speciality food development. University College Cork wishes to acknowledge that this qualification is run in partnership with the Department of Agriculture, Food and the Marine.
Target Audience
The Symposium is intended for artisan and speciality food producers, including the alumni of the Diploma, as well as stakeholders such as support agencies, government departments and businesses, who are contributors to the artisan/speciality food sector.
Programme
The day-long programme will include presentations by key stakeholders, Diploma graduates and others who are actively working in the artisan/speciality food sector. The event will culminate with an Open Forum which will explore challenges and supports. Forum panellists will include artisan food producers/graduates, and individuals from various support agencies. The full Programme is attached for your information.
Registration
To reserve a place please fill out the attached Registration Form and return by email/post as soon as possible.
Places will be allocated on a first come, first served basis.
Contact information:
Dr Angela Sheehan
Food Industry Training Unit
College of Science, Engineering and Food Science
University College Cork
021 4901423
Email: a.sheehan@ucc.ie
Funded by
the European Union