| | |
| --- | --- |
| The Meat Mission - Places available this Thursday 3rd, Gubbeen Farm, West Cork | 29 February 2016 | www.tradeitnetwork.eu |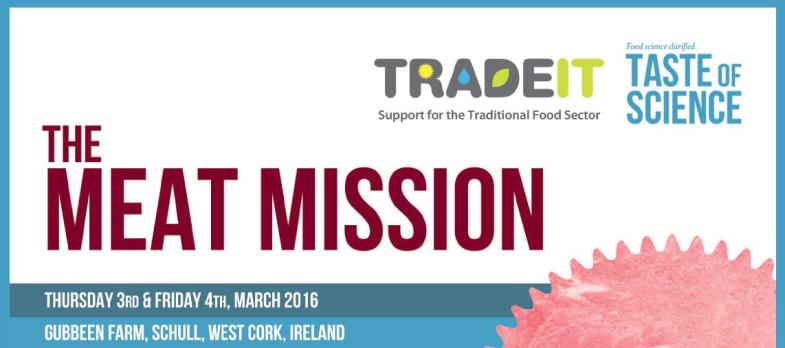 The MEAT MISSION day 2 is fully booked!

Limited places still available for Day 1: Click here to secure a place at Day 1


WHAT IS THE MEAT MISSION ALL ABOUT?


Drawing on the best Irish and international talent in the charcuterie and meat curing sector, 'The Meat Mission' will provide Irish meat producers access to Gubbeen farm's state of the art facilities and the opportunity to learn from the best in the business and explore ways to add value to their products and make the most from their fantastic raw materials. 


To download 'The Meat Mission' brochure click here


WHO IS THE MEAT MISSION TARGETED AT?


SME Food Producers

Butchers and Abattoirs

Farm Based Meat Producers

Charcuterie Start-ups
HOW TO SIGN UP...


Day 1, 'The Meat Mission' Seminar and Demonstration is open to all and will provide participants with an overview of a range of charcuterie and meat processing methods, principals and technologies. €30

Click here to secure your place at Day 1


Day 2, is limited to 12 participants and is a hands-on practical charcuterie workshop where participants will get the opportunity to make and takeaway a range of charcuterie and cured meats.

ATTENDANCE AT DAY 2 IS AN ADDITIONAL €60 AND IS SUBJECT TO APPLICATION. FOR MORE INFORMATION ON THE APPLICATION PROCESS EMAIL michael.gleeson@staff.ittralee.ie


The cost of the workshop has been heavily subsidised!
Funded by
the European Union